PHAR1010: Essential Skills for Pharmacists
2017/2018
Dale and Appelbe's Pharmacy and medicines law - G. E. Appelbe, J. Wingfield, J. R. Dale c2013

Book A comprehensive and detailed book covering all the law and ethics undergraduate syllabus. We recommend you buy a copy of this book as you will use it throughout the course for law and ethics including during your law and dispensing exams (as an RPS member you get a 25% discount if ordered online at http://www.pharmpress.com/). Earlier editions are in stock in the library under the title: Dale and Appelbe's pharmacy law and ethics.

Pharmacy practice - Jason Hall c20130199655324,9780199655328

Book We do not recommend you buy this. It is useful additional reading, particularly for those who are not familiar with the UK health system.

British National Formulary - British Medical Association, Pharmaceutical Society of Great Britain 19819780857110862

Book A guide to prescribing and much more. Essential. The school will provide you with a copy of this which you will use for the first two years of your degree.

Biochemistry - Jeremy M. Berg, John L. Tymoczko, Lubert Stryer, Gregory J. Gatto c20121429229365,9781429229364

Book

Introduction to human physiology - Lauralee Sherwood 20131133104541,9781133104544

Book Previous editions in stock under the title: Human physiology : from cells to systems. Please check the library catalogue.

Medicines, ethics and practice: a guide for pharmacists - Pharmaceutical Society of Great Britain

Book The practising pharmacist's summary of law and ethics. Essential. You can obtain a copy of this by joining the Royal Pharmaceutical Society as a student member which is free and enables you to obtain an electronic copy of the book free (you will need to print your own copy) - it costs £50 otherwise.

Journal The electronic version is available free for RPS members but you need to register with the site. An essential source of information about the profession of pharmacy. An ideal read in prepartion for vocational and pre-registration employment.
All rights reserved ©
Profile Required
Reading intentions and notes are stored against your user profile. Please create a profile to use this feature.
My notes
You must be logged in to add a note
What are item notes?
You can use item notes to make personal notes on any of your reading items. Notes are private to you and will not be shown to other users.
You can review your item notes from the list, the item page or from your profile page.
---
How do I create an item note?
To make notes, first you must be logged in. Once logged in, simply click Add note? next to the list item you wish to make notes on. You can also make notes at the bottom of every item's detail page.
Your note will be saved automatically as you type.
Have you read this?
You must be logged in to set a reading intention
What are reading intentions?
Setting up reading intentions help you organise your course reading. It makes it easy to scan through your lists and keep track of progress. Here's an example of what they look like: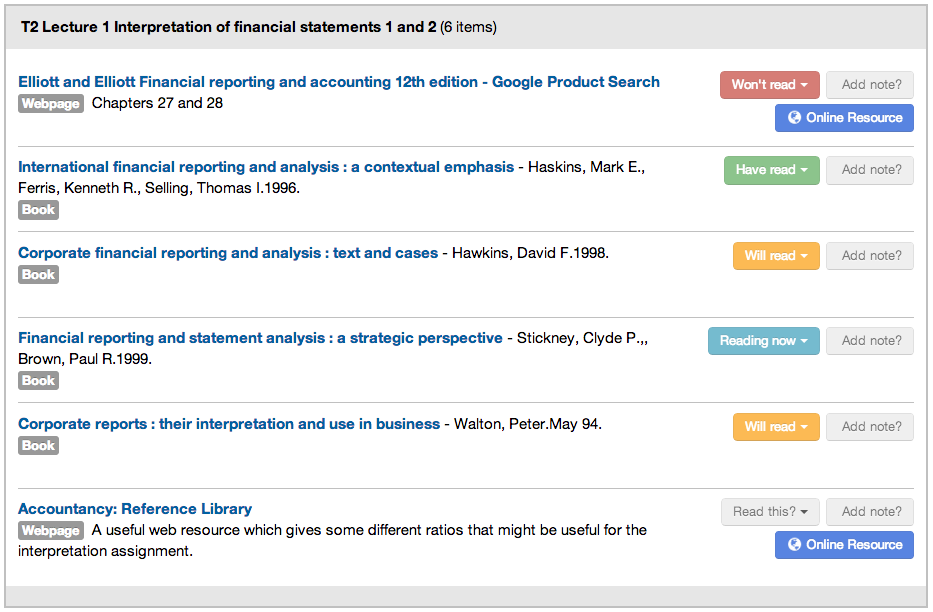 Your reading intentions are also stored in your profile for future reference.
---
How do I set a reading intention
To set a reading intention, first you must be logged in. Once logged in, click Read this? next to the list item you wish to set a reading intention for.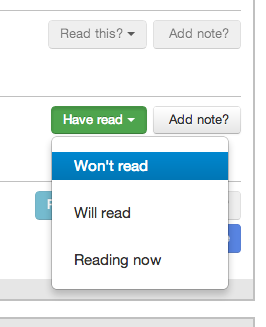 You can also set the reading intention from every item's detail page.